SHARPENING OUR SPIRITUAL IMAGINATION
BY LAUREL ARCHER
ADVENT PRAYER
Come Fire

Come Wind

blaze, blow

upon your poem, this poet

writing in the early hours,

like a beachcomber at low tide

looking for how long and holy seed

and gifts of your grace

left at the shoreline of another year.

Herons and seabirds (icons

of your presence for me) stand silent,

as witnesses to my awakening hope.

Come Holy Word –

reword me.

Laurel Archer
When crisis looms or struggle is unrelenting, we're thirsty for good news. Advent is like an oasis we arrive at, weighed down with unanswerable questions and real-life struggles, to find refreshing hope in the living water that is Jesus. It's full of prayers, poems and ponderings to help us reorient to God's perspective and plan so we can follow Him into the coming year. As the spiritual "New Year," it resets the Good News story, inviting us back to the beginning to hear it all over again. As we listen to prophetic promises full of expectation and hope, we're invited to measure all that's happened to and through us against those same promises.
During the season of Lent, I decided to read slowly through the book of Isaiah. When I arrived at Isaiah 6, I remembered how Isaiah's call captured my spiritual imagination as a young adult. I easily imagined myself standing in the temple as the presence of God filled it. I wanted to see the Lord like Isaiah saw Him. So, those searching words, "Whom shall I send, and who will go for us?" (Isaiah 6:8, NRSV) reverberated in my ears. I felt an inner stirring—half eager desire, half edgy dread. As the flaming coal came toward my lips, I believed that everything from here on in would be amazing. But of course, "amazing" doesn't describe much of my last 30 years. Even so, I still recognize some of my history in the rest of Isaiah 6.
Verses 9-13 are hard to hold and reconcile. The words don't stir you up like the "rah-rah-rah" of a pregame rally, but they're God's Word, too, and they have the power to reword us for the coming year.
"Go and say to this people:

'Keep listening, but do not comprehend;

keep looking, but do not understand.'

Make the mind of this people dull…"

(Isaiah 6:9-10, NRSV).
HOW LONG?
In verse 11, Isaiah responds with the question, "How long, O Lord?" I don't know about you, but I can feel that question in my bones. When things don't turn out like I want them to, when this year's hopeful goals are sputtering in March and spent in May, when my personal or professional world is being held together with pins, "How long?" is my measuring question. It asks, "Will I be enough?" God's answer to Isaiah isn't comforting, it's descriptive. God expects Isaiah to live out his calling and keep delivering the difficult message. "How long?" turned out to be:
"Until cities lie waste

without inhabitant,

and houses without people,

and the land is utterly desolate;

until the LORD sends everyone far away,

and vast is the emptiness in the midst of the land.

Even if a tenth part remain in it,

it will be burned again,

like a terebinth or an oak

whose stump remains standing

when it is felled"

(Isaiah 6:11-13, NRSV).
REAL LIFE
Are you as startled as I am by God's honesty with Isaiah? Everything would be devastated. Sometimes I wonder if we truly understand just how limited our vision is. With some practice, we can accurately guess and maybe plan a little for probable outcomes, but real life is peppered with the unexpected, the improbable, and the unwanted. Like Isaiah, it's the press of the big picture, the until-cities-lie-waste picture that disorients us because we want to steel ourselves just enough to get through to the better stuff (we'd rather linger in Isaiah 40, 41, 42). Yet, Jesus Himself reminded one would-be disciple: "Foxes have holes, and birds of the air have nests; but the Son of Man has nowhere to lay his head" (Matthew 8:20, NRSV).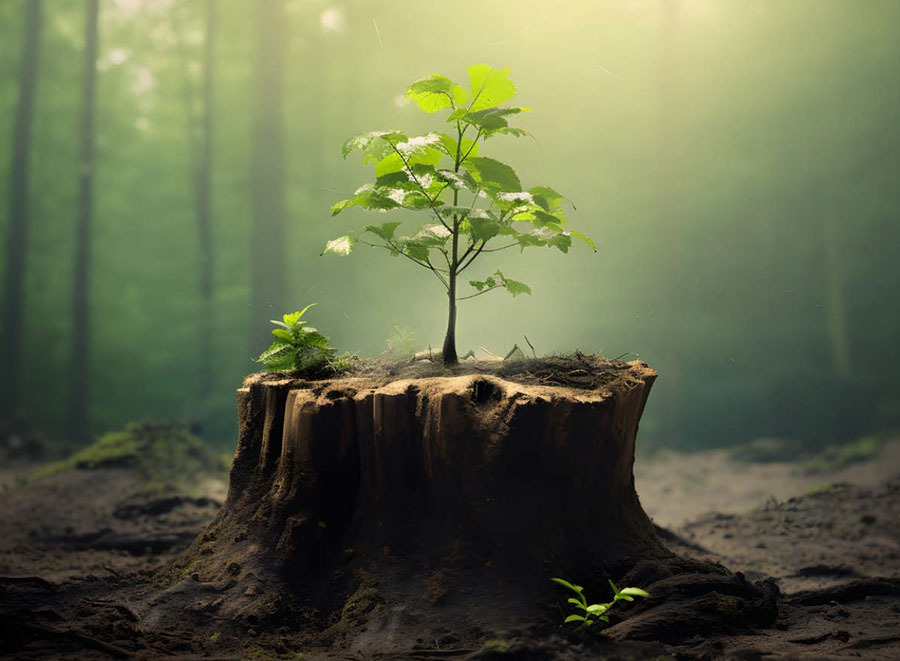 Please don't hear that I think hard is good, or that God designs our calling to be harsh or impossible. Hear, rather, that when life is harsh, and our callings are full of impossible challenges and perhaps even failures, the presence of God that filled Isaiah's temple now fills you and me. It's strong enough to accompany real-life pressures and circumstances. You and I can only see moment by moment, but it's God who can lift the veil a little and give us a peek at the future, calling us to endure and breathing hope over us.
HOPE
Listen to the final line of Isaiah 6, which is the final line of Isaiah's call: "The holy seed is its stump" (verse 13). The word "holy" stirs me. It means that God is present, even in the mess of real life and ministry, when we're distressed about the lack of outward signs of success and progress. "Holy" is what the seraphs called out. Isaiah experienced God's holiness when the burning coal cleansed his lips. Now the holy seed of Jesus's resurrected power is living in us, in every single razed stump of our everyday lives. When we can see God's holy presence is with us, indeed, in us, hope takes root and grows.
As you prepare for and walk through Advent this year, courageously begin to gather up your unanswered questions from the past year and the jagged stumps of your real-life struggle. Let the prayers of Advent be honest and take you into God's intense holy presence; let them lead you to Jesus. Only Jesus is strong enough to be yoked to the unpredictable and sometimes harsh reality that is our calling. Advent is a holy practice that supports our hard but holy work and feeds our holy longing for Jesus. When the season ends, we emerge refreshed and ready to offer Jesus to others, knowing He is the only hope for a wrecked and wounded world.
"A shoot shall come out from the stump of Jesse,

and a branch shall grow out of his roots.

The spirit of the LORD shall rest on him…"

(Isaiah 11:1-2, NRSV).
Laurel Archer lives in Langley, B.C., and has served Christian Life Assembly as the assistant Family Life pastor for the last six years. She has been observing Advent for 25 years with her family.